China equity: Record derating calls for revaluation
---
China's equity markets have been under severe pressure since early 2021 due to a combination of deteriorating economic fundamentals, punitive regulations and rich valuations.
Heavy selling has rapidly eroded value across several sectors at a scale rivalling some of the worst market drawdowns in recent history. Confidence has depleted so much that many global investors have started to question the investment potential of China's equity markets.
However, while significant uncertainties still prevail, there is also evidence suggesting that many risks are starting to recede. Beijing's cyclical policies have switched from restrictive to accommodating, while in a bid to restore market confidence, regulatory headwinds are also beginning to ease.
But most importantly, equity market valuations have fallen well below their long-run average - and relative to other markets - indicating that much of the bad news has already been priced in.
While not guaranteed, we believe this creates something of a potential buffer against future risks, and a possibly attractive entry point for rebuilding China equity positions in a globally diversified portfolio.
Disaster unfolded
Chinese equities – including onshore listed A-shares and offshore stocks traded in Hong Kong and the US – have struggled against multiple headwinds since early 2021. The derating of the offshore markets was particularly severe, erasing most of the value in the worst-hit sectors, such as after-school tutorial education and real estate.
For the bigger technology sector, the severe drawdown bears an uncanny resemblance to the meltdown following the burst of the US dotcom bubble, even though many of today's Chinese firms are much more profitable and cash rich, than their US counterparts were back then. (Exhibit 1)
Exhibit 1: Resemblance of drawdown: HSTech Index vs. Nasdaq
Image
Source: Bloomberg, Goldman Sachs, AXA IM
The start of the market correction broadly matched with the peak of China's economic cycle. Removing base-effect distortions, the Chinese economy started to slow in early 2021 after its initial post-COVID-19 rebound. The slowdown was exacerbated by periodic virus resurgences and Beijing's hastened policy shift from support to normalisation. These macro concerns came to a head more recently following the Omicron wave, and the authority's insistence on its 'zero-covid' strategy, which together threatened to plunge the economy back into recession.
Besides the macro woes, the adverse regulatory shocks were also detrimental to equity market sentiment. Unexpected crackdowns on several fast-growing industries – e.g. e-commerce, ridesharing, education and fintech – dealt a heavy blow to many stocks that were widely held by global investors.
The misunderstanding of China's social and economic initiatives, such as 'common prosperity',1 also led to more general fears about regulation in China, which undermined the investability of its markets.2
External regulatory uncertainties added fuel to the fire. Disputes over information disclosure of Chinese ADRs by the US Securities and Exchange Commission (SEC) and the China Securities Regulatory Commission (CSRC) prompted fears of stock delisting from the US markets. Beyond affecting the targeted companies, these regulatory concerns sometimes resulted in indiscriminate selling of all US-listed Chinese stocks which in turn pressured A and H-share markets into a synchronized decline.
Finally, it is important to note that Chinese equities had reached expensive valuations before the market onslaught started. The MSCI China index was trading at more than two standard deviations above its long-run average earnings at the beginning of 2021, while the Hang Seng Tech index was priced at almost 30% above its average P/E at the peak. Frothy valuations had made the markets vulnerable to a correction and could have exacerbated the decline as the market downturn ensued.
Light at the end of the tunnel?
The relentless selling made China the worst performing equity market in 2021. While more two-way flows have emerged lately, many investors remain skeptical of the market having finally hit a bottom.
Reassessing the factors above, we do see some material changes to the macro environment surrounding Chinese equities.
For a start, market valuations have turned from expensive to cheap. Forward P/E multiples of the MSCI China All Shares index collapsed from over 19 times (in December 2021) to 10 (in March 2022), in a four standard deviation move, before rising to gently 11.2 times now – still more than one standard deviation below its long-term average.
Globally China is one of few major markets that is still trading at below average valuations. A simple ratio against the S&P 500 suggests that plenty of bad news has already been discounted. (Exhibit 2)
Exhibit 2: Price ratio: CSI 300 Index vs. S&P 500 Index
Image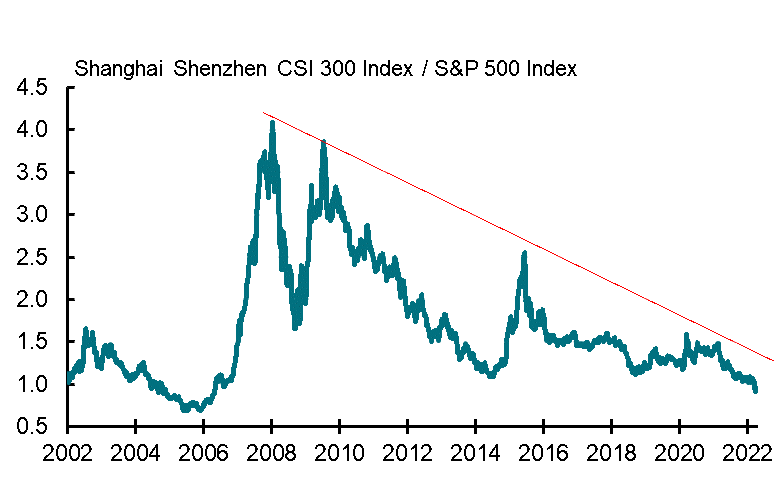 Source: Bloomberg, AXA IM
On the macro front, while the current economic backdrop remains challenging, policies have clearly turned the corner. Both monetary and fiscal easing started in earnest late last year. And with growth headwinds stiffening, Beijing is set to intensify its efforts to stabilise the economy in a politically sensitive year.
A sustained improvement in financial conditions, in our view, bode well for a further valuation repairments before earnings growth can catch up later in the year. We think the turning of the policy cycle is critical for removing a major overhanging risk for the equity market.
The worst of the regulatory crackdowns also appears to have passed. Besides official promises to avoid market-unfriendly regulations, recent comments from President Xi Jinping and Vice Primer Liu He were particularly reassuring.
Together they addressed many prominent concerns of the market, including working with the SEC to ensure continued listing of the ADRs, and making local regulations for big tech firms more transparent, predictable and market driven. While many remain dubious over whether Beijing will follow through with actions, we think the desire for repairing a critical financing channel for the real economy is genuine and strong. This should, at a minimum, press pause on punitive regulations, or better still, pave the way for more market friendly policies in the foreseeable future.
Exhibit 3: Relative performance of ADRs with HK-listings vs. without HK-listings
Image
Source: FactSet, Goldman Sachs Global Investment Research
Attractive entry to a strategically important market
Attempting to time the market is difficult at the best of times, let alone when uncertainties are this elevated. Fortunately for us, investing is not a gamble on a binary outcome, but maximising the probability of success while aim to have a margin of safety.
The drastic derating of Chinese equities and a significant shift in China's policy environment have, in our view, sufficiently moved the odds in favour of the market delivering compelling performance in the coming years. We think this presents a potentially attractive entry point to gradually build positions in an important asset class which has long been neglected by global investors.
Such a neglect, if unrectified, could prove increasingly costly. In a world where many of the existing norms are in flux, diversifying one's investments – across asset classes and geographics – is widely viewed as the best way to manage market risks and uncertainties.
Our previous study3 has shown a potentially strong diversification benefit of including China in a global equity portfolio given its low return correlation with other markets. In addition, contrary to popular belief, the CSI 300 index has outperformed the S&P 500 over the past 20 years, generating an annualized return of 7.4% vs. 7.1% in US dollar terms4 . While past performance cannot guarantee future results, it does highlight the potential peril of continuing to ignore a large and important market.
In terms of risks, the near-term hurdle for a continued market rerating is the weak Chinese economy. A more persistent COVID-19 lockdown, combined with insufficient policy support, could hit earnings' fundamentals and keep the equity market in the doldrums for longer. The long-term challenges lie more with policy uncertainties from both within and outside of China.
Internally, the continued success of China's economic development hinges on the effectiveness of its reform initiatives – such as 'dual circulation', 'common prosperity' and decarbonization – in transforming its economy in the coming decades. Failure to achieve these will keep the economy unbalanced and productivity growth depressed, undermining the attractiveness of all Chinese assets.
Externally, China is in a front-row-seat witnessing a 'once-in-a-century' change in the global order which has already started to reshape the norms in geopolitics, economics and finance. Greater financial decoupling between China and the west – separated by barriers such as company sanctions, listing restrictions, investment exclusion, or use of a particular currency – could all increase the risk premium of Chinese equities.
While China will likely fight hard against such an isolation, success is not entirely in its own hands, but also contingent on the resolve of others.  
[1] See Yao, A and Shen, S "Decoding China's regulatory paradigm shift" Research & Strategy Insights, 3 September 2021
[2] It is worth noting that concerns about 'common prosperity' and the related policies seem to be more acute among offshore investors than onshore investors. This is reflected in the outperformance of A-shares over offshore markets last year, and even in the hard-hit tech sector, onshore stocks have outperformed their offshore peers. The A-share market also saw consistent capital inflows through the stock connects over the period. 
[3] See Yao, A and Shen, S "Five Reasons why China should be standalone in global asset allocation" Research & Strategy Insights, October 2019
[4] Source: Bloomberg; 20 year period starting from 3/29/2002 to 3/31/2022).  
U2VlIFlhbywgQSBhbmQgU2hlbiwgUyDigJxEZWNvZGluZyBDaGluYeKAmXMgcmVndWxhdG9yeSBwYXJhZGlnbSBzaGlmdOKAnSBSZXNlYXJjaCAmYW1wOyBTdHJhdGVneSBJbnNpZ2h0cywgMyBTZXB0ZW1iZXIgMjAyMQ==
SXQgaXMgd29ydGggbm90aW5nIHRoYXQgY29uY2VybnMgYWJvdXQg4oCYY29tbW9uIHByb3NwZXJpdHnigJkgYW5kIHRoZSByZWxhdGVkIHBvbGljaWVzIHNlZW0gdG8gYmUgbW9yZSBhY3V0ZSBhbW9uZyBvZmZzaG9yZSBpbnZlc3RvcnMgdGhhbiBvbnNob3JlIGludmVzdG9ycy4gVGhpcyBpcyByZWZsZWN0ZWQgaW4gdGhlIG91dHBlcmZvcm1hbmNlIG9mIEEtc2hhcmVzIG92ZXIgb2Zmc2hvcmUgbWFya2V0cyBsYXN0IHllYXIsIGFuZCBldmVuIGluIHRoZSBoYXJkLWhpdCB0ZWNoIHNlY3Rvciwgb25zaG9yZSBzdG9ja3MgaGF2ZSBvdXRwZXJmb3JtZWQgdGhlaXIgb2Zmc2hvcmUgcGVlcnMuIFRoZSBBLXNoYXJlIG1hcmtldCBhbHNvIHNhdyBjb25zaXN0ZW50IGNhcGl0YWwgaW5mbG93cyB0aHJvdWdoIHRoZSBzdG9jayBjb25uZWN0cyBvdmVyIHRoZSBwZXJpb2QuIA==
U2VlIFlhbywgQSBhbmQgU2hlbiwgUyDigJxGaXZlIFJlYXNvbnMgd2h5IENoaW5hIHNob3VsZCBiZSBzdGFuZGFsb25lIGluIGdsb2JhbCBhc3NldCBhbGxvY2F0aW9u4oCdIFJlc2VhcmNoICZhbXA7IFN0cmF0ZWd5IEluc2lnaHRzLCBPY3RvYmVyIDIwMTk=
U291cmNlOiBCbG9vbWJlcmc7IDIwIHllYXIgcGVyaW9kIHN0YXJ0aW5nIGZyb20gMy8yOS8yMDAyIHRvIDMvMzEvMjAyMikuIA==